Young Swingers® Week - YSW
Young Swingers® typically want to meet with people and couples in their age bracket, plus have similar interests and experiences. That is what started Young Swingers® Week. There are 49 other weeks you could visit Hedonism II, but will there be other couples in your age range to meet?
What Age Range are Young Swingers®?
With our previous events, the average age range of our attendees has been 20's, 30's and younger 40's. Please take in consideration that many of our attendees were born in the 80's and 90's, so this is really a week for them to associate with people in their own peer group and age range. Everyone who goes to Hedonism is "Young at Heart", but this is the week for "Young People to Unite at Hedonism". This is a great group for millennials. We have had so many compliments over the years from people in their 20's and 30's stating, "this is the first event that I did not feel like the youngest person", and how much they "loved that". 18 years old is the minimum age for the event and is the drinking age in Jamaica.
IMPORTANT NOTICE
If you want to be part of the Young Swingers® Week events, you must book your vacation reservations only through this website. Do not book directly through the resort, or through another travel agency, because you will not be part of the Young Swingers® Group.
About Young Swingers®
Young Swingers® organizes and hosts parties, events and travel for adults in their 20's, 30's, and younger 40's. Our events include: Young Swingers® Week, Young Swingers® Weekend at Trapeze and events coming to other clubs. If you own a club and would like to discuss having a Young Swingers® Event at your club let us know the details so we can discuss it with you.
---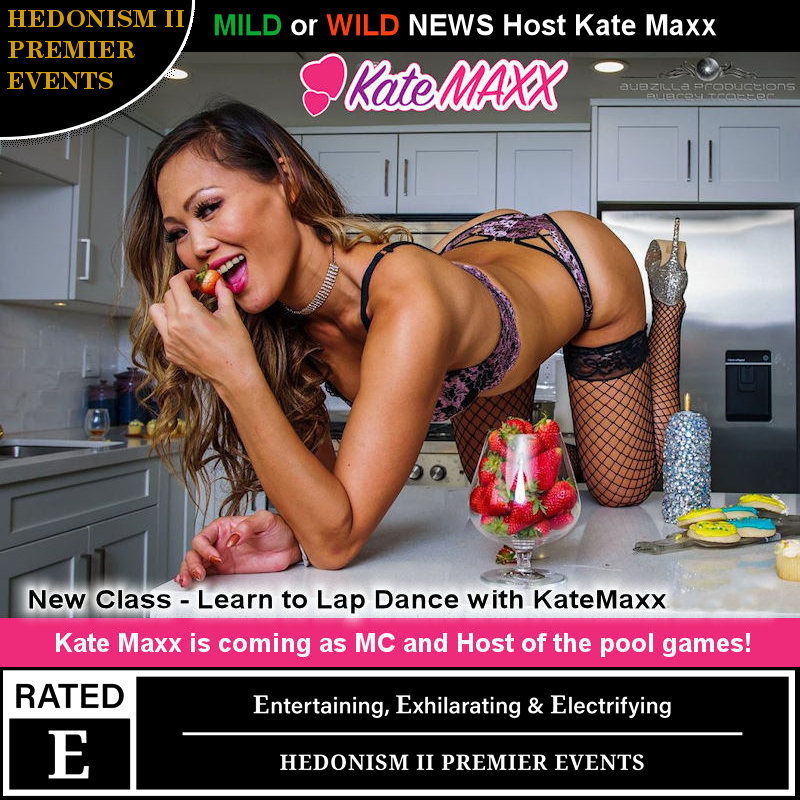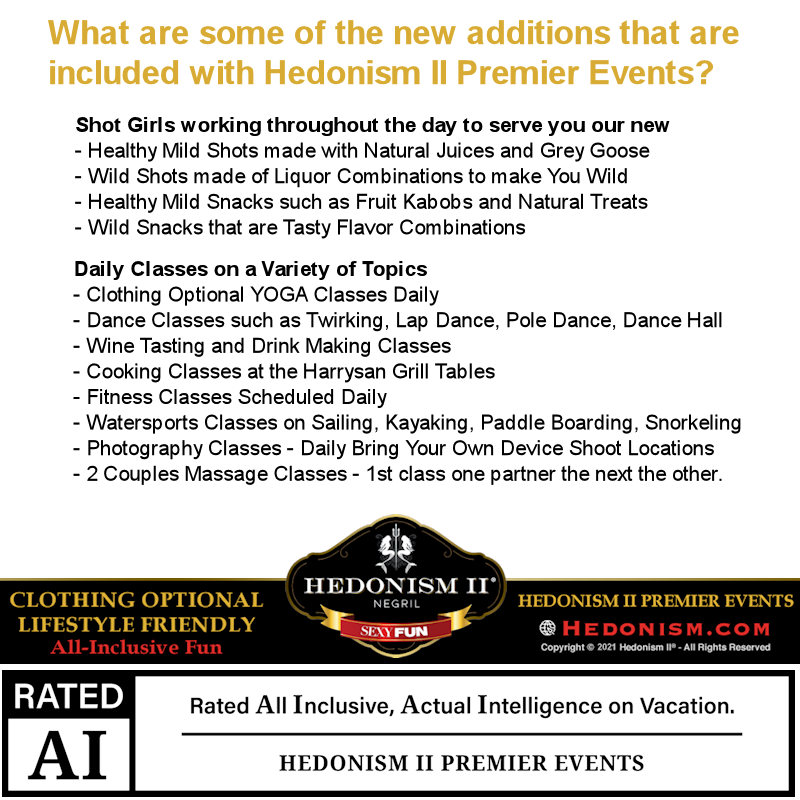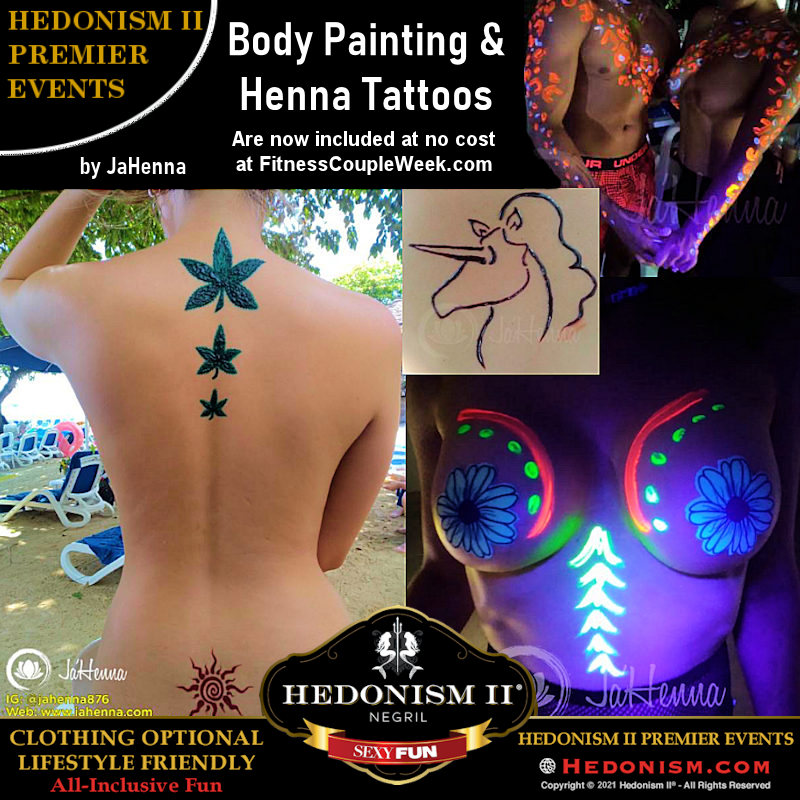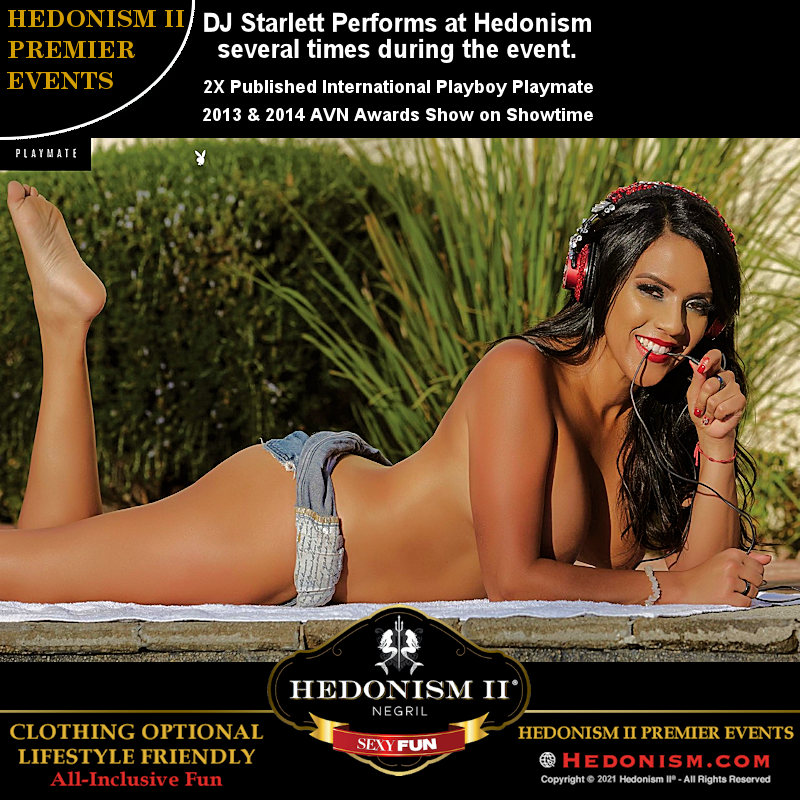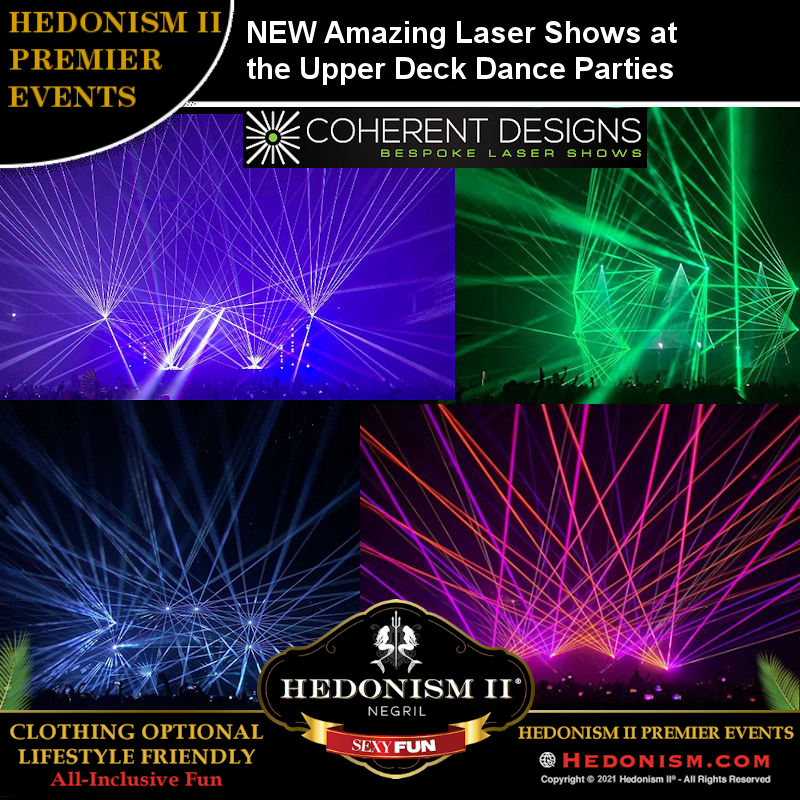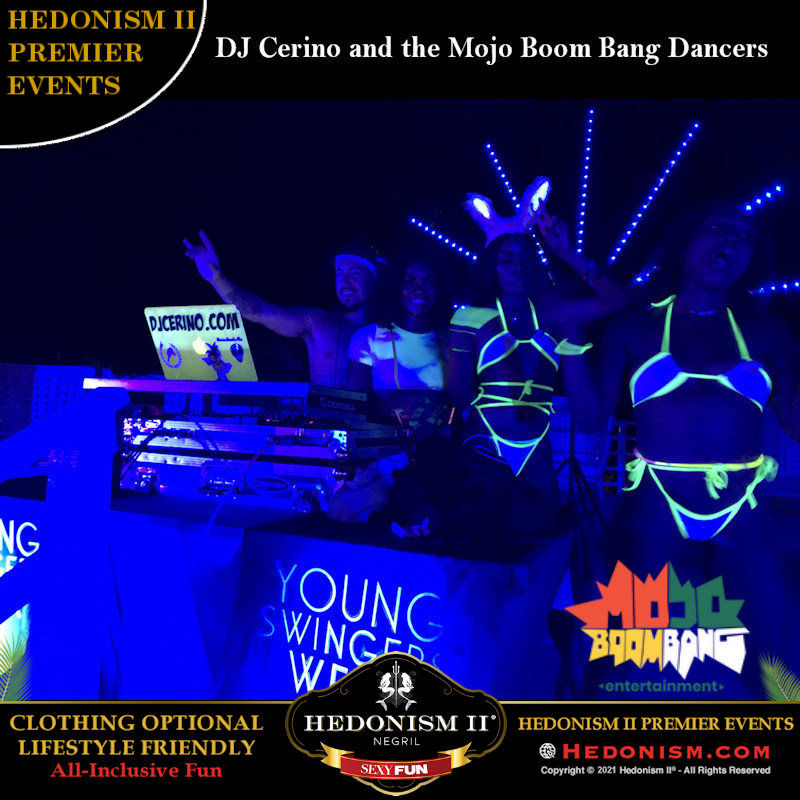 Hedonism II Premiere Events
Hedonism II and YSW would like to invite you to experience a brand new Hedonism II Premiere Event with our First Annual 2022 Music Festivals.
Come and enjoy a tropical adults-only, all-inclusive paradise and experience a Hedonism II Premiere Event with one of our brand new music festivals for 2022 at the iconic Hedonsim II Resort in Negril, Jamaica: Rock Star Week™, Week of Country™, Week of EDM™, and Week of Hip Hop™.
Rock Star Weekؑ™ - February 19th-26th
Week of Country™ - June 25th-July 2nd
Week of EDM™ - July 16th-23rd
Week of Hip Hop™ - August 20th-27th
We have created Mild Side Events and Wild Side Events for each guest to enjoy based on their comfort level.
Mild Side Events are topless optional.
Wild Side Events require full nudity.
Enjoy a different theme night throughout the week for each event.
Let the music take over you and find out if you are Mild, Wild, or Somewhere in Between.
Beaded Name Necklaces
All attendees will receive a beaded necklace that will have your name on it, so people can get to know each other easier and learn your lifestyle level. You can choose the necklace cord colors that fit you: Green is for Mild for open minded, flirty, or nudist. Red is Wild for lifestyle. In addition, we added beads to tell people what your personal interests are. This helps like-minded people find what they desire. It is important to wear your necklace, after all there a lot of names to try to remember, especially trying to do so after being at the bar and pool all day. Read More About the Necklaces
Let Your Fantasies Come True
I guess you can say Hedonism II and Young Swingers® Week is kind of like Fantasy Island, but with some differences. The guests are not thinking about what it would be like to be rich, famous, or even be the president, Hedo guests just want to have a good time fulfilling their sexual fantasies. If you're going to YSW, then you have certainly sat down and talked about your sexual fantasies and lifestyle desires. Now you can play them out and no one will judge you, because everyone else is going to be there for the same reason. Unlike some fantasies that may not turn out, with all the temptation that Hedonism has to offer, these fantasies may be better than you could have ever expected.
It is an International Event
This week draws young people from all over the world with similar lifestyle choices".
We welcome all races, nationalities, and body types.
This allows people to hang out for a week with others that grew up on the same movies, music, TV shows, styles and trends from their generation. They can meet others who graduated college around the same time, got married around the same time, and many have little children. This is the first year that people born in the year 2000 can start attending and is a great group for millennials.
This is really about meeting people from your own generation, and not looks or fame.
Here is a chart which shows average percentages of each age range.
https://www.youngswingersweek.com/age-graph.html
Here is a map of the Earth showing all the locations our attendees have come from.
https://www.youngswingersweek.com/international-events.html
"The International Event Where Friends and Fun Are the Occasion"™
Welcome to Young Swingers® Week! We hope that your vacation is everything you're seeking and what you are curious about is exactly what you find right here when traveling to this Jamaican paradise.
---
Resort Map