Weddings at Young Swingers® Week

Envision being surrounded by sparkling Caribbean waters, other young couples in the lifestyle, and feeling the Jamaican breeze on your bare skin. Nothing inspires passion more.
Not only are you in one of the most stunning vacation destinations in the world, but if you are part of the Young Swingers® Week group at Hedonism II you are surely in for a wild ride! If you and your future spouse are joining us for our March 2016 and want to have a wedding day that goes down in history, look no further.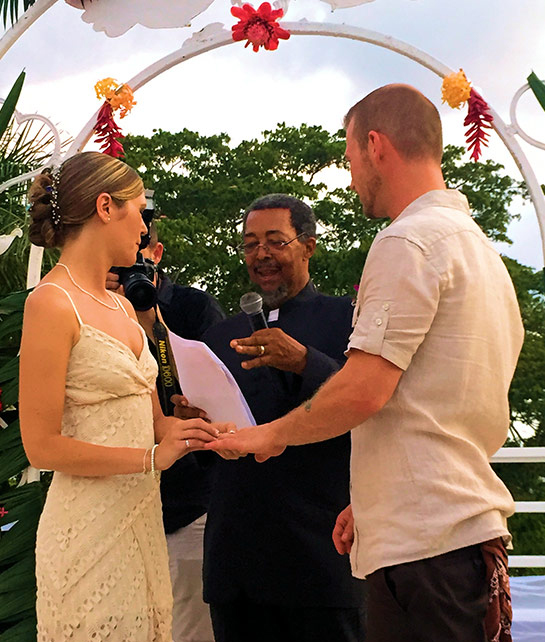 Your wedding day is a point in your life that you want to be absolutely perfect. You want every last detail to be personal and unique to you and your spouse. What better place than beautiful Negril, Jamaica? Better yet, during Young Swingers® Week at Hedonism II. Destination weddings are becoming more and more popular, but getting married during Young Swingers® Week is a time you will never forget. Everything from the sparkling waters, the breathtaking beaches, and the other young and exciting couples make this the perfect place for your one-of-a-kind wedding. We have already had two couples get married at our past events, and this March we are celebrating our third couple getting married. Not every couple in the world will have a shot at a wedding that perfectly blends all of the elements of a romantic getaway, a titillating adventure, and a relaxing vacation. What could be any better? We certainly can't think of much that beats it!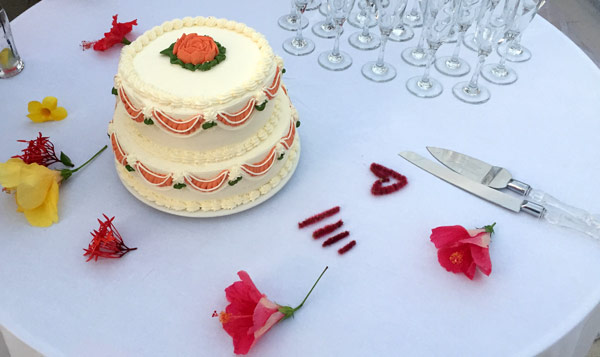 Think about it. You are already staying at this beautiful resort, surrounded by adventurous friends who are there to help you celebrate the big day. The setting is perfect, the crowd is perfect, and passion is running high. The resort can provide all of your flowers, a phenomenal custom wedding cake, and you are already in the perfect location for a honeymoon that will fulfill all of your wildest fantasies. The cost to have a fantastic wedding in Jamaica is significantly less since you are literally combining you wedding with your honeymoon. The incredible chefs at the resort can make a unique wedding cake that will reflect you and your spouse, and your flowers will be colorful and fresh. Getting married in Jamaica is truly a life-changing experience with a tropical fantasy you have always dreamed of.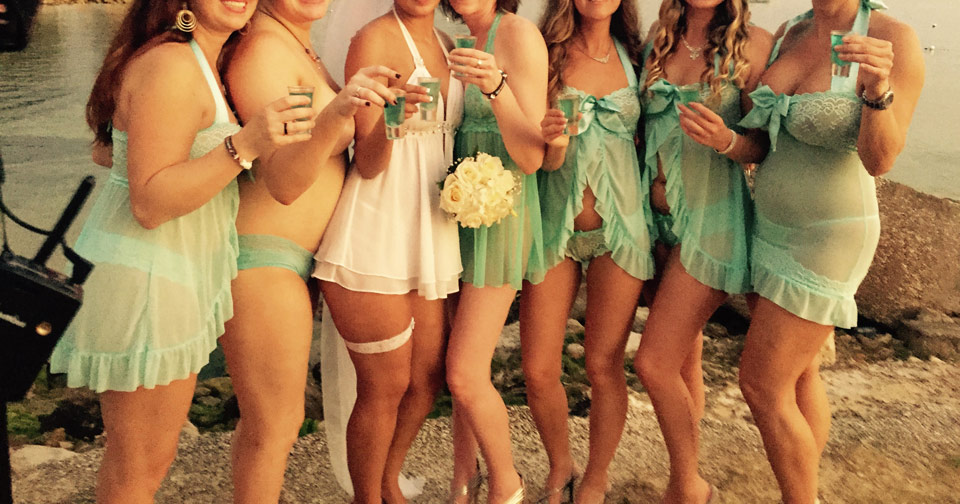 Choose Your Type of Wedding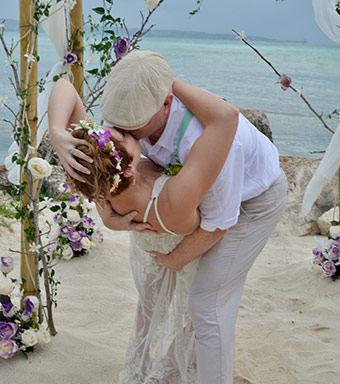 Your wedding day will be whatever you want it to be. You can have a formal ceremony, a more causal one, a symbolic or legal one. This is all whatever your heart desires. If you prefer a more formal ceremony, Hedonism II has an upper deck that is absolutely perfect for formal wedding ceremonies. If you are looking for a more laid back celebration, you are only a few steps from the stunning Negril, Jamaica Seven Mile Beach! Of course, a wedding held during Young Swingers® Week requires a strictly sexy dress code. Your wedding party has the option to be clothed or to be nude. This day is all about making your dreams come true, and at Hedonism II... those dreams include any of your X-rated dreams. Young Swingers® always have a good time, and everything we do is to make sure all of our young couples are having the time of their lives. At our past weddings, the groomsmen have worn Chippendale styled cuffs and collars, and the bridal party has worn elegant lacy lingerie (but the bride should be the only one wearing white). The weddings we have held during our event have inspired many other couples to inquire about holding their weddings with us as well!
You already have every ingredient for the best wedding ever right at your fingertips. Maybe getting married during Young Swingers® Week sounds like everything you could ever want, but you have family and friends back home who you know would hate to miss such an event. Well, we have got you covered. If you choose to have a symbolic wedding at our event, this gives you the option to have a more traditional ceremony back home. If you and your spouse have already been married, this steamy week may spark the desire in you two to renew your vows. Perhaps, when you and your lover were married, there was no ceremony. This is a chance to have the wedding you have been fantasizing about. Making memories and having the absolute time of your life are what Young Swingers® Week is all about.
The wedding package at the resort is amazing, by booking your wedding at Hedonism II Resort you get a load of benefits! Choice of tropical location, whether you're wanting a steamy botanical back drop or you're dreaming of tying the knot along the beautiful beaches, you will not be disappointed. There are many other choices to explore as well! Have a professional wedding planner at your side, entrust the resorts experienced, personable planner to manage all of the major and minor details so you don't have to. The rest of the package includes a personal wedding cake, minister, flowers, marriage license, champagne, music and witnesses. Keep in mind that government and administration fees will be at an additional cost.
Not only does Young Swingers® Week give you the chance to have a spectacular wedding ceremony, but think about the honeymoon. When people envision their ideal honeymoon, the setting is usually a tropical paradise. Sand, sun, and fun. Well, we can tell you right now that there is absolutely no party like it. You and your spouse will be surrounded by other sizzling young couples that will help make your day sexy and special. Honeymoons have always had a reputation for being a sensual time for new adventures. You will never be able to have a honeymoon quite as intimate as this one. During Young Swingers® Week, you will be able to live out your most erotic fantasies without judgement, without stress. With our theme nights, games, and activities there will never be a dull moment. Better yet, you could celebrate your anniversary at the event next year!
You will be able to share some laughs and spend time with all of your friends, new and old. With all of the fun and excitement you and your spouse have a night you will never forget.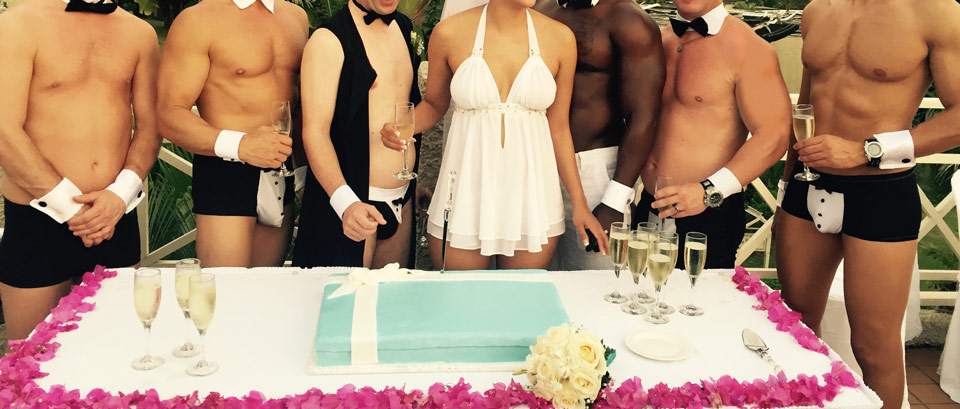 ---
Z & Shanna July 25th, 2017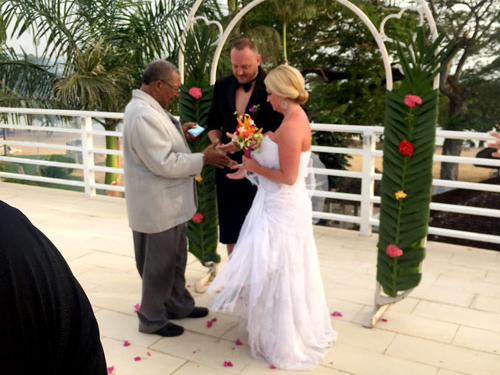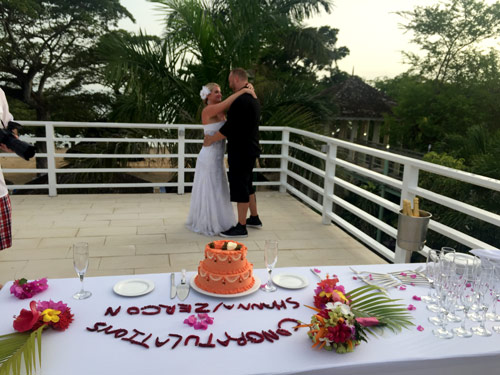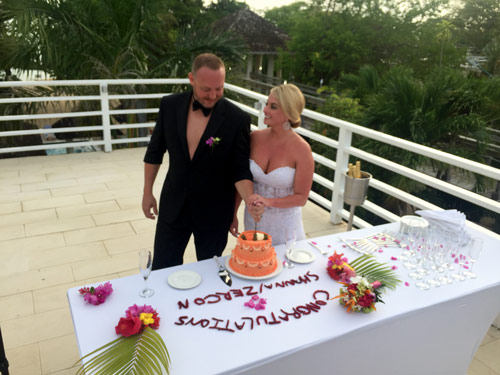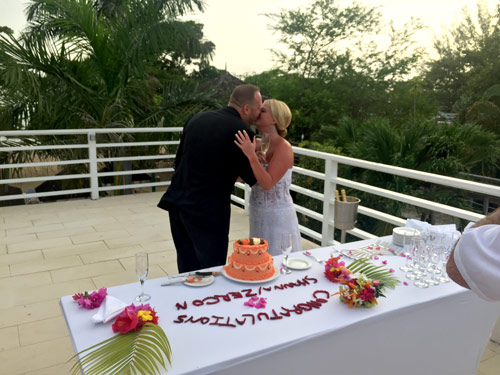 More Event Photos and Videos!
Young Swingers® Week Naked News® Videos
Carli Bei from Naked News interviewed several of our attendees in March 2015 at our event at Hedonism II in Jamaica.
View the Young Swingers® Week Videos
Young Swingers® Event and Hedonism Resort Photos
Here are a few pictures that don't do the event justice, because we only have a few pics with past attendees which are the fun and excitement of Hedonism. Being a nudist resort no picture taking is allowed at the nude pool and nude beach. If you are going to take pictures try to take them against a wall or a scenic background without other people in them. You will definitely want to take pics of all the theme night outfits you wear.
You must book your reservations through this website.
IMPORTANT NOTICE: You must book your reservations only through this website to be part of this event. Do not book directly through the resort, or through another travel agency, because you will not be part of the Young Swingers Week group. Our group has taken on a significant effort in the marketing of this website, the event, and the added entertainment we are providing. This is why we require that the reservations are placed only through this website.