Young Swingers® Night Parties and Events in Canada at The X Club
Join us in Canada for a Young Swingers® event you won't want to miss.
Everyone needs to register on this website for a chance to win. One randomly drawn pre-registrant will win "2 Nights Free for Two" at the October 2017 or March 2018 Young Swingers® Week at Hedonism II in Jamaica. (Sponsored by Hedonism Resorts).
---
Saturday, June 24th, 2017 – 9pm
Young Swingers® Week Flasher Night Party at The X Club
Ladies wear your shortest sexy skirts and flash away! (panties optional *wink*)
View the event at: TheXClub.com
(Go to Calendar > Upcoming Events)
Want to purchase tickets to event right now?
Click Here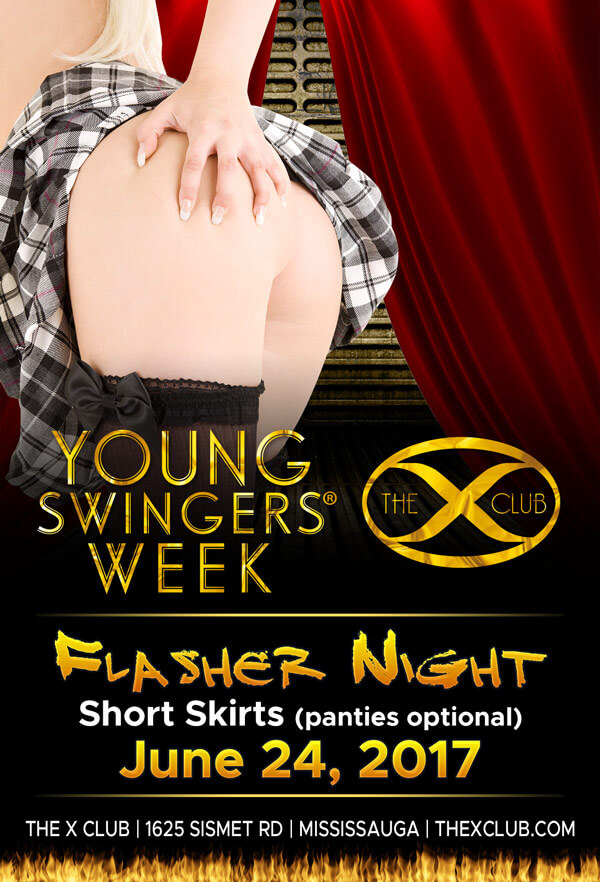 ---
Toronto's Premier Swingers club
The X Club nightclub, bar and lounge is Ontario's most elegant on premise nightclub catering to upscale couples, single females and pre screened / approved single males (over 25 years of age). Single men are only allowed to attend The X Club on their own on Thursday (when open), Friday nights and Sunday nights (when open). We limit the number of single men to 15 per event at the club. Single males may attend The X Club on Saturday nights (max 15 per event) when they accompany a couple to the club. We invite people to The X Club that enjoy exploring their deepest fantasies and erotic side.
The X Club setting is clean, comfortable, respectful and always edgy (please take a look at our X Club virtual video tour). The X Club nightclub, bar and lounge is located in Mississauga, Ontario and is definitely the place to be if you and your partner are uninhibited, curious and daring. The X Club is also a place where people who have never attended a club like this can feel comfortable and move at your own pace. Dance the night away, fill your senses with the beauty of the people around you, or just sit in one of our lavish seating areas and watch the exciting progression of The X Club's sexual energy. The choice is yours. The typical age range of guests that attend The X Club is between 25 and 50 years of age with the majority of our guests (over 50%) being in their mid 30's.
The X Club staff will be more than happy to show you around with their primary objective being your comfort, and if you desire, introduce you to other couples at The X Club. Complimentary champagne and strawberries await you.
---
The X Club's Young Swingers® Night Event Pricing
Every person allowed into the club must purchase a membership, regardless of partnership status. Memberships can be obtained at the front desk of our club. Just bring a picture ID and the sign up only takes a moment.
New Member pkg SALE (1 Year Basic Membership + 1 Event Couples Pass):
$115.00
Single Women:
$10.00
Couples Admission:
$40.00
Note: All payments and arrangements are made directly with The X Club. Young Swingers® Week is not collecting any payments and is not being paid for this event. This was simply done to help young couples have a great time in Canada. Hope to see you there!
---

The X Club Location
1625 Sismet Road
(Dixie/Matheson)
Mississauga, Ontario, L4W 1V6
Telephone: 905.602.4954
Email: info@theXClub.com
---
↓ RSVP Now! ↓
Click Here to Register for Drawing for Young Swingers® Night with The X Club