Young Swingers® Sponsored Party at Club Secret in Kissimmee, Florida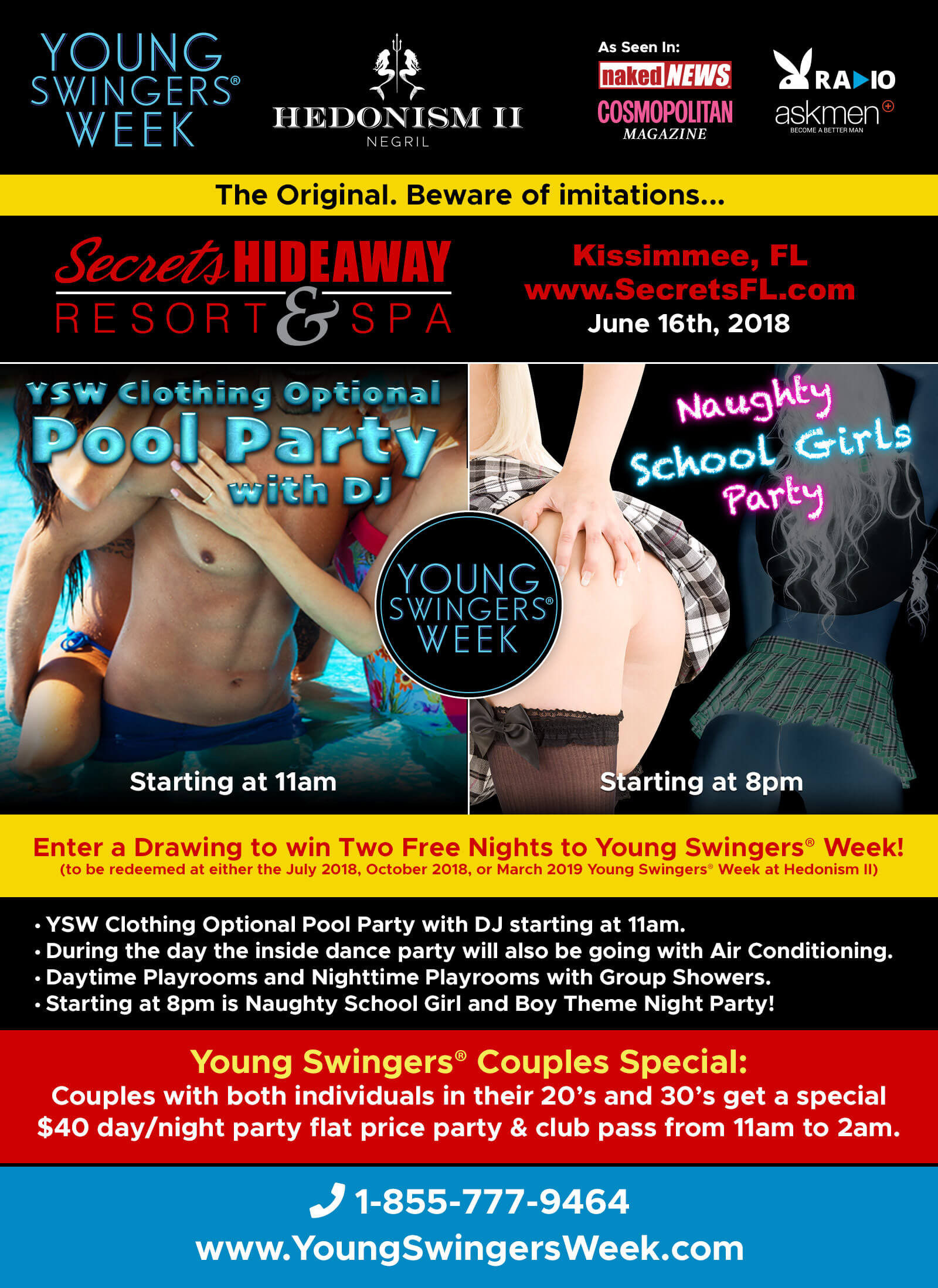 ---
---
---
---
Special for couples in their 20's and 30's
$40 Flat day and night party pass which includes a one day membership. Both individuals in the couple must be in their 20's or 30's.
Due to privacy concerns, we are no longer offering any drawings for free nights.
---
Venue Information
Secrets Hideaway Resort & Spa in Kissimmee, FL
Secrets Hideaway in Kissimmee, Florida, is an exclusive members-only Lifestyle resort and spa. It is the perfect getaway vacation destination where you can be free to lounge around in your birthday suit, meet other like-minded people, and enjoy some fun in the sun! Secrets is also close to the Orlando theme parks and many other attractions that Kissimmee and Orlando has to offer. Of course, with all the amenities on-site, you probably won't want to leave the resort! Couples and singles alike, you can indulge in your secret fantasies and make them a reality!
Secrets has a number of custom condos available to rent. These newly renovated condos are all uniquely and sensually decorated, with the majority boasting their own fridge, kitchenette area, additional seating/living room area, and plenty of storage cabinets. There are many other room options available as well if you'd rather spend your money on the party!
Features & Amenities include:
Large commercial size pool and large outdoor bar
Conversation pool and Tiki bar
Two 12-person hot tubs
130 rooms
3,000 sq. ft. club with dance floor and bar
Professional Nightclub DJ
Pool-side DJs
4,000 sq. ft. of pleasure rooms
Towel only playrooms
Clothing-optional playrooms
Group shower
Dungeon
Full service liquor bars
Day and night pool parties
Lounge
Poolside kitchen
Volleyball court
Adult toy store
Fitness room
Complimentary dinner buffet
Complimentary omelette bar
With everything you need located on-site, you can cast away those inhibitions and let your primal side run free! Your secret is safe! Every night is erotically-themed and geared towards meeting new people, making new friends, and reconnecting with friends and lovers. You can come with a day pass, night pass, or come for multiple days, whatever you want!
RSVP
We need your RSVP so we know how many people to prepare for.