Free Scuba Diving at Hedonism II
Submerge yourself in the beautiful Jamaican waters surrounding the resort, enjoying a tantalizing scuba diving experience, during your YSW vacation. If you're brand new to scuba diving this is the perfect place to start!
(All Equipment Included)

The resort has a team of PADI certified experts that can guarantee a memorable experience in Jamaica. Any equipment needed for the dive is provided by the resort, including masks, tanks, fins, snorkel, regulator with depth and pressure gauges. Wet suits are not provided; however, you definitely won't need one in the summer. Water temperatures in the summer are pleasant and on average range from 79-86 degrees Fahrenheit. Perfect for nude diving, which is allowed at the resort, and an amazing experience, you won't want to pass up. The resort is home to one of the most all-inclusive resort diving experiences in the Caribbean.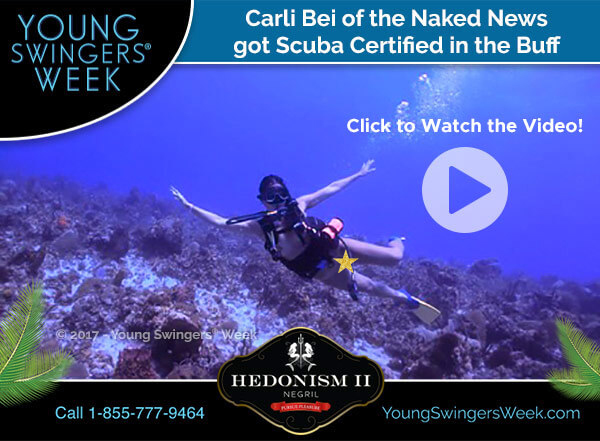 Enjoy new depths of excitement at Hedonism II. Our team of PADI-certified experts will ensure your experiences are unforgettable. Even if you've never dived before, our introductory Discover Scuba Diving Course will have you experiencing a whole new underwater world, with all the instruction and top-of-the-line equipment needed. If you're already a scuba enthusiast, you can enjoy up to two dives per person per week per stay.
Our introductory Discover Scuba Diving Course is $79 US dollars (if you have never dived before). Classes are conducted in the main pool three days weekly: Tuesdays, Thursdays and Fridays from 8:00am to 1:00pm. Once you have completed the class, you will be entitled to one open water dive.
If you would like to be PADI certified, PADI certification courses are offered daily at an additional cost:
Scuba Diver is $300,
Open Water $400. Advanced open water is an additional $300
Rescue Diver $500,
Dive Master $700
Books, Video and other studying modules are included in your course.
We offer 2 complimentary dives for certified divers per person per week per stay. Mondays and Wednesdays at 9:30am (deep dive maximum depth 90 ft) and Tuesdays and Thursdays 11:30am (shallow dive maximum depth is 60 ft). Additional dives are available at $49 per dive and may be arranged with Guest Relations or at the water sports desk.
Certified divers only need proof of certification and your two dives are all included. We accept other certification agencies such as NAUI, SSI, YMCA, BSAC, CMAS, and PADI also.
Discover SCUBA Divers are allowed one ocean dive, unless you are upgrading to SCUBA Diver or Open Water. You pay the difference to upgrade and will be allowed up to two dives per person per week per stay. If you are qualified, bring an International "C" card or a certificate from an internationally recognized dive school. If you are not qualified, you will have to take a swimming test. After passing, you will need to have a current Diving Medical Certificate or obtain one from a local physician. We can arrange this for a small charge.