Free Scuba Diving at Hedonism II
Submerge yourself in the beautiful Jamaican waters surrounding the resort, enjoying a tantalizing scuba diving experience, during your YSW event for free. If you're brand new to scuba diving this is the perfect place to start!
(All Equipment Included)

The resort has a team of PADI certified experts that can guarantee a memorable experience in Jamaica. Any equipment needed for the dive is provided by the resort, including masks, tanks, fins, snorkel, regulator with depth and pressure gauges. Wet suits are not provided; however, you definitely won't need one in the summer. Water temperatures in the summer are pleasant and on average range from 79-86 degrees Fahrenheit. Perfect for nude diving, which is allowed at the resort, and an amazing experience, you won't want to pass up. The resort is home to one of the most all-inclusive resort diving experiences in the Caribbean.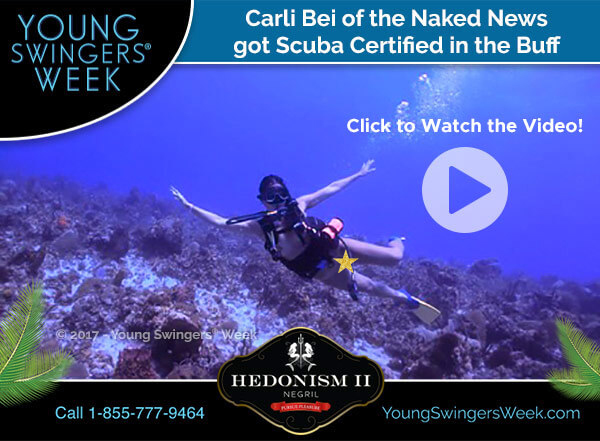 Certification will be available and will have you ready to dive in and engage with a dazzling array of sea life! Experienced divers can enjoy up to two dives per day.
If you have been previously certified, be sure to bring an International C-Card or a certificate from an internationally recognized dive school. Certifications we accept include: PADI, NAUI, SSI, YMCA, DEA, BSAC, ACUC and CMAS.
If you aren't certified, no problem! BASIC certification is offered for $250.00, and $350.00 for OPEN WATER certification. The BASIC certification process takes two days, and three days for OPEN WATER. Training entails time in a classroom, watching a video, an equipment session, underwater communication techniques/signs. At the end of the training there will be a multiple choice test, consisting of fifty questions.
If you have a medical condition, please bring a letter from your doctor stating that your condition will not affect you while diving. If you have no existing medical condition, a letter from your doctor is not required.
This adventurous, liberating dive excursion is available to you with a variety of dive locations and varying depths of water; the shallow water dive is at 60 feet and the deep water dive, at 90 feet. Dive sites are within minutes of the resort and include two sunken plane and a sunken tug boat.
The length of the dives depends on the depth of the water. Shallow dives are 35 minutes, and the boat leaves at 9:30 am, daily. Deep dives are 20 minutes, and the boat leaves at 11:30 am daily.
The Caribbean waters are teeming with an abundant variety of beautiful and exciting sea life that will provide a level of wonderment like you've never experienced, especially if you are new to diving. The reefs along the diving locations are home to beautiful coral, vividly colored sea fans and more. You'll be able to see plenty of fish and other sea creatures including but not limited to: French angels, spotted drum, spotted trunk fish, a variety parrot fish, barracudas, nurse sharks and sea turtles.
Other marine life you may see are: Caribbean reef squid, spotted rays, moray and snake eels, octopus, lobsters, crabs and plenty more! If you've dreamed of swimming with dolphins, who are typically curious and friendly creatures you most likely spot some on your excursion.
The waters surrounding the resort are typically calm and offer outstanding visibility, on average of about 100 feet. If there happens to be a storm before your dive, the visibility is still spectacular!
Your safety is of the utmost importance to us. The staff keeps a close eye to ensure proper training for whichever dive you sign up for. All dive boats contain all items necessary in the event of an emergency. All dives are guided by two dive masters. There will be a briefing before entering the water and underwater hand signal communication is reviewed.