Young Swingers® Saturday at colette in Dallas, Houston TX and New Orleans, LA
Join us in Dallas, Houston or New Orleans for a Young Swingers® event you won't want to miss.
---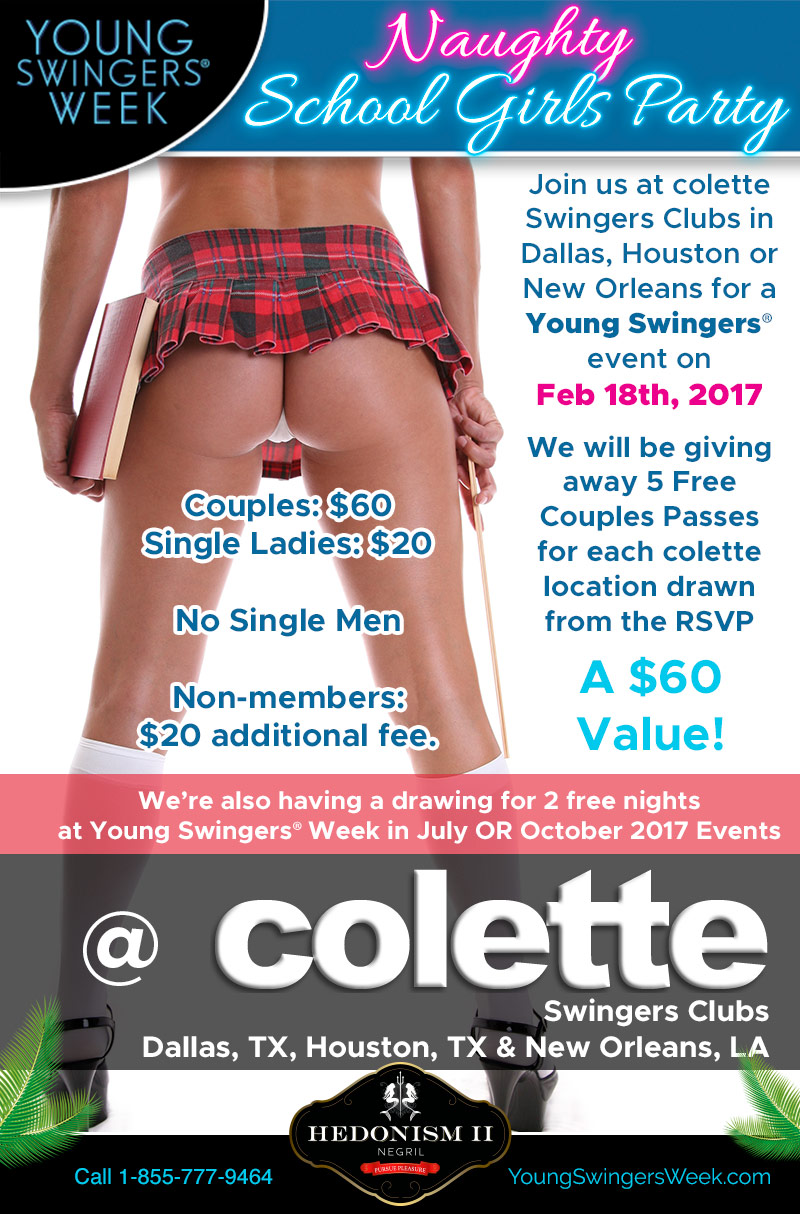 Young Swingers® Naughty School Girl Party with colette in Dallas, TX, Houston, TX and New Orleans, LA
Saturday, February 18, 2017 at 10:00pm
Join Young Swingers® for Naughty School Girl Party at all of the colette Swingers Clubs on one amazing night. Young Swingers® will be giving away 5 Free Couples Passes to each colette location drawn from the RSVP. Winners will be notified 3 days prior to the event, so please RSVP for your chance to enter free.
Couples: $60 | Single Ladies: $20 | No Single Men | If you are not a member there is a $20 additional fee.
In addition, at each club there will be a drawing for "2 Nights Free for Two" for the July 2017 or October 2017 Young Swingers® Week events at Hedonism II in Jamaica. (Sponsored by Hedonism Resorts)
Dallas Texas, Houston Texas and New Orleans Premier Swingers Clubs
Note: All payments and arrangements are made directly with colette Clubs. Young Swingers® Week is not collecting any payments and is not being paid for this event. This was simply done to help young couples have a great time in the New Orleans and Houston and Dallas, TX areas. Hope to see you there!
---
colette and Young Swingers® Week have come together to bring you the most amazing Young Swingers® Night at all of the of colette Dallas, Houston and New Orleans locations. We will be giving a chance to win a free comp at all of the locations, for two nights to Young Swingers® Week at Hedonism in Negril Jamaica, for either our July or October 2016, or March 2017 event.
colette atmosphere is sensual with private rooms, and areas to play in, with lockers to safely store your things.
The theme night for the Young Swingers® Weekend is Naughty School Girl, and the guys can dress in theme as well, or as if they are going out for a more casual dressy upscale night out on the town. The dress guide for the ladies aside from Young Swingers® Weekend naughty school girl is sexy dresses, or outfits, also sexy fetish vinyl and leather, or even lingerie is acceptable. Just make sure however you decide to dress, that you are dressed in something less revealing to the door and leaving.
colette Dallas which is over 6,000 square feet, and is nonsmoking atmosphere, has a main floor bar area which is bring your own spirits or beer, better known as BYOB, tended by the bar staff, who will serve them with mixers that are provided. Next to the bar is a nice lounge area facing the dance floor, so you can enjoy a nice conversation with others, while watching people dance.
There is a second floor to colette Dallas with a lounge area, facing another dance floor. The second floor is also where you will find a movie room with triple X vides, private rooms, and play areas.
colette Houston's NEW location is an over 7,000 square feet, private on-premise social swingers nightclub for couples, single men and women who are active in or curious about the swinging lifestyle. Our club is a great place for people of like-mind to meet in a safe, friendly and upscale atmosphere. When choosing from clubs in Houston, swingers now have a clear choice!
Featuring:
Upscale atmosphere
Valet parking
NON-SMOKING
High-tech lighting
Group areas
Private rooms
Dance floor
Dance pole
Lockers
Over 7,000 square feet!
Lounge
DJ mashing up a mix of dance music and party favorites
Movie theatre
Sexy vibe
Friendly staff and security
A variety of play areas
Drink set ups are available for purchase
colette New Orleans which is also over 6,000 square feet, shares the same guides as colette Dallas, as far as dress code, nonsmoking, and the BYOB set up. Bartenders will also store your bottles behind the bar here. colette New Orleans has a nice lounge upon entering the main floor, with bookshelves and sofas. The main floor area, also has the bar and a lounge area facing the dance floor, there is also separate sections of lounge areas to enjoy and a library lounge on the 2nd floor.
On the second floor, of colette New Orleans location is a Movie theatre, showing triple x shows. The second floor is also where you will find private room, and play areas.
New Orleans colette club open Saturday at 9 PM to 4 AM, Houston is from 9PM to 4AM, and Dallas is from 10 PM to 4 AM. So be sure to join us, and don't miss out on all of the fun.
---

colette - Dallas, TX
10821 Composite Dr
Dallas, TX 75220
Phone: 972-323-1100
---

colette - Houston, TX
1319 Cypress Creek Pkwy #190
Houston, TX 77090
Phone: 281-781-7221
---

colette - New Orleans, LA
822 Gravier Street
New Orleans, LA 70112
Phone: 504-588-1517
---
↓ RSVP Now! ↓
Click Here to RSVP for Young Swingers® Saturday with colette